1350 Model
The Model 1350 is Amarr's medium duty commercial foamed-in-place door.
This energy efficient model is designed to provide maximum value for your budget. The sections are insulated with foamed-in-place polyurethane which creates a strong monolithic panel.
Each Model 1350 is secured with standard 14-gauge, galvanized steel hinges. The interior skin of each section has two continuous horizontal 20-gauge reinforcing strips. The section joint is thermally broken and chemically bonded with a pressure-sensitive adhesive sealant. An EPDM rubber weather seal further enhances the performance of the joint.
Features/Options
CONSTRUCTION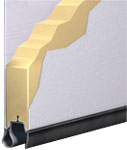 TRIPLE-LAYER
Steel + Insulation + Steel
Track: All Amarr Doors are available with both 2" or 3" track in Standard Lift, High Lift, Vertical Lift, Low Headroom, and Follow the Roof Pitch. Custom track configurations are also available. For drawings and more information, please visit the Amarr downloads website.
Hardware: Amarr hardware includes minimum 14-gauge galvanized steel hinges and 13-gauge galvanized steel track brackets. All rollers have minimum 10-ball bearings.
Springs: Torsion springs are oil tempered, helical wound and custom computed for each door for a minimum 10,000 cycle life. Optional springs are available up to 100,000 cycle life.

Panel Designs
Ribbed Panel


Window Options
24" X 12" INSULATED
26" X 13" INSULATED
24" X 6" INSULATED
Color Options
COMMERCIAL WHITE